https://forbes.hu/uzlet/egy-magyar-varrono-latja-el-plussallatokkal-a-vilagot/
A Hungarian seamstress who makes plushies for the whole world
  "We once got a message through Etsy, saying they saw our sloth and would like six of them, only they'd have to be a bit bigger so they'd look better in the film." Andrea Vida, who tells the story was still a computer programmer then, making her "creatures" in her free time, usually at night in front of the television. The sloth was to appear in an american comedy, where in one scene it'd be ripped to shreds. The prop master ordered six so there'd always be an intact one in case of reshoots, but it still wasn't enough. "She was constantly sewing the torn plushies back together behind the scenes". 
Andrea and the prop master formed a close bond over the course of their cooperation, and even met in person when Katrina Rice was visiting Budapest.   Unfortunately the scene didn't make it into the final cut of the film, but one of the sloths was visible in the lap of the child star for a few seconds. 
After the shoots came another e-mail, this time from the director, placing an order of 200 of the critters for the wrap party. "The party was only a week later. I wrote back, that it may be the biggest opportunity of my life but I can't possibly take the offer. In the end we agreed on a hundred sloths and a one month deadline. I closed the webshop for that month and the whole family helped out with smaller tasks." In contrast, now that Andrea's been doing this as a full time job for the past three years with the help of two full time seamstresses, she sells two thousand products a year in around one thousand orders. There's a counter in her workshop counting every finished toy; as of right now it's approaching 4400.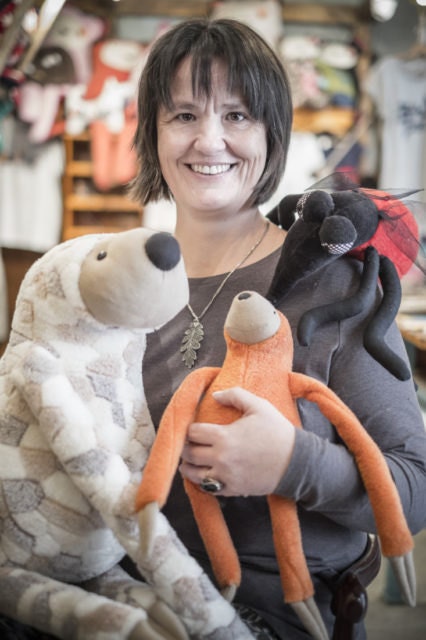 Fotó: Orbital Strangers (Forbes Hungary) 
But what could be so special about a plushie? One that could cost up to 35 USD no less. "Mass produced toys can be cute as well, but mine are original designs in novel shapes and made out of quality materials. When I'm making them, I think about somebody from the other side of the world wanting to give their loved ones something special. To get it they spend an hour browsing Etsy for the right gift then they wait a month while it's shipped all the way from Hungary. The least I could do is pay attention to every piece." This is why Andrea likes to work on every single animal her workshop produces, even insisting on making the last stitch herself.  
While she still had her IT job during the first year, all profits from the business went to buying fabrics to keep it going. After the second year she had enough set aside to buy some new clothes for herself, then, by the third year her family's vacation was financed entirely by her plushie manufacture. 
Her husband, previously an IT advisor also left his profession to help out with the family business. "Nowadays I buy the materials, stuff the creatures', shoot photos, do logistics and customer service", Gábor Vida told us. Andrea tailors and sews, while he does everything else from supplying to keeping contact with buyers. 
They have two college aged kids. "Before they didn't brag about their parents being computer programmers, but now they tell everyone about the sloth business."   
The first product was a chicken, but the first real hit was a fox. Later a personalized dog and the sloth took off. In total they have more than sixty different products. Besides the usual suspects, such as a dog and a bear, they have some specialties: various insects, birds, marine mammals, rodents, amphibians, reptiles. They don't keep a lot of their creatures in stock at a time, rather they plan production based on the orders they receive. "We have designated days for making dogs and sloths."   
The main source of orders is the international market of handmade knick-knacks, Etsy. Besides that they supply two small gift-shops in Budapest (Artushka, Le Petit Design) and AVida-creatures also turned up at fairs and festivals all around Europe through distributors.   
The couple's latest project is an environmental ad campaign managed by the Fred & Farid Group, for which they're making marine animals. To draw attention to plastic waste floating in oceans the creatures have small pockets on their bellies filled with plush plastic bags, cups and tin cans. 
They were happy to accept the assignment but were taken aback when the company announced that the creatures will later be available for order on the campaign's site, and that they'd like Andrea to handle production instead of a mass producer. "We have no idea how big of an order to expect so we're stocking up on our usual products to be able to keep up in case the designs turn out to be popular and we have to make a lot of them.   
Sixty percent of their buyers are from the US), but they've had orders from all around the world, and distributors in Australia, Germany, the USA and the United Arab Emirates.